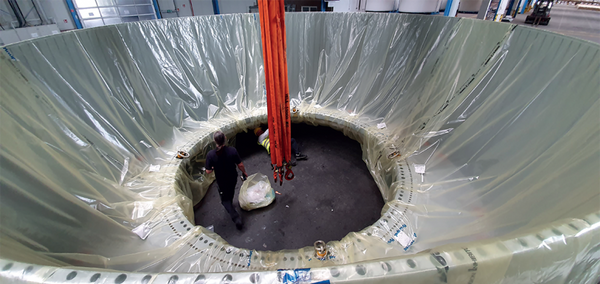 Wind power: Protection from the elements
WHEN A GLOBAL WIND MANUFACTURING COMPANY CONTACTED ZERUST FOR HELP WITH CORROSION PROTECTION, ZERUST WAS ABLE TO RECOMMEND SOLUTIONS THAT SAVE BOTH LABOR AND MAINTENANCE COSTS
---

Zerust is a leader and innovator in the development and production of corrosion protection solutions for the renewable energy sector.

Part of the global Joint Venture network of Northern Technologies International Corporation (NTIC), our solutions provide protection to metals in highly corrosive and harsh environments. Wind turbines can be susceptible to corrosion during their lifetime, due to a number of factors from being shipped for assembly and extreme temperatures to the salt spray in the wind itself. This means that wind turbine coatings must work against the challenges created by the combination of environment and use.

At Zerust, we understand that corrosion protection systems are critical to maintaining the condition of corrosion-free components and surfaces, as well as functionality, as component failures can lead to high maintenance costs, downtime and affect overall energy production.

We were approached by a global wind engineering company that was having problems with their Complete Knock Down (CKD) parts for new megawatt wind turbines. The previous product they used on the friction rings and clutch rings to prevent corrosion was a heavy grease and was laborious to remove and clean, and
often resulted in injury. Additionally, each ring has plenty of threads and plugs on each side and the plugs were difficult to remove due to the sticky grease residue. The company tried a package tour from Asia to Europe that didn't work – they applied the heavy grease to the components and wrapped them in polyethylene. At the destination, the rings were cleaned to remove the grease, but brownish spots remained on the painted surface and there was corrosion in the threads, which had an unpainted surface. The rings had also been stacked using wooden blocks to spread them, which caused further problems as organic materials retain moisture and form acids that are aggressive and corrosive.

We worked closely with their team and went through a prototyping process to identify the best products to protect their components. Our Zerust VCI (vapor phase inhibitor) products work by releasing a harmless, non-toxic, odorless, colorless vapor into the air around the metal object. Protective molecules deposit on all exposed metal surfaces, forming a very thin protective layer only a few molecules thick. This molecular layer inhibits electrochemical reactions on the surface of the metal that cause corrosion. Exposed metal surfaces protected by Zerust benefit from a long-lasting shield against rust, tarnish and corrosion.

We replaced the polyethylene with Zerust Outdoor Preservation Shrink Film which provides the perfect protection against the elements. It combines a superior shrink film product with proprietary Zerust VCI technology. The film shrinks and conforms to objects when heated to repel moisture and contaminants. Zerust VCI saturates the interior of the packaging to protect hard-to-reach spaces and cavities from corrosion.

In addition to the VCI film solution, we chose our Axxanol range of liquid and grease corrosion protective coatings, which offer an additional barrier against aggressive environments such as salt air and high temperatures. Axxanol Z-Maxx LV provided the ideal solution; it is a lower viscosity NLGI 0 grease, easy to apply and even easier to remove – saving labor and maintenance costs. When applied in a thin even layer, it creates a translucent film that makes the metal surface visible. It also offers extreme corrosion prevention for ferrous and non-ferrous metals and is compatible with synthetic rubber and plastics. Finally, we replaced the rubber protection plugs with multipurpose VCI plugs and Axxanol Z-Maxx. The plugs as well as all VCI film and bag products have also been offered in their compostable, completely green version for a sustainable circular solution.


We first delivered our products to the company's base in Denmark, and over the past five years we have also started working with their bases in Spain, Germany and elsewhere in Europe. The changes we implemented resulted in a reduction in labor and maintenance costs for the company as cleaning of the components was no longer necessary and the plugs could now be easily removed.

The case was first published at https://energy-oil-gas.com/news/protection-from-the-elements/

Reál Marine AS is the Norwegian distributor of all Zerust products. If you have questions about the products or other corrosion solutions, contact us at post@realmarine.no or call 51 94 47 00