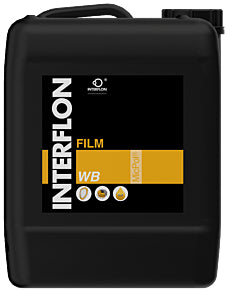 Interflon Fin Film WB, 1x10ltr
Skal du ha mer enn 10? Justèr antallet i handlekurven!
Pickup available at
PFS
Usually ready in 2 hours
View store information
Interflon Fin Film is a coating with nano additives. Used to protect stainless surfaces and pipes against contamination.
Durable TEFLON® based coating for long-term protection of metal surfaces. Gives after curing a dry, smooth lubricating film with good protection against corrosion and contamination. Very well suited as corrosion protection of stainless steel against (salt) water, aggressive chemicals and other atmospheric influences.
Application
For long-term protection of surfaces exposed to heavy pollution and corrosion on slideways, salt spreaders, containers, walls, cables, washers, silos, military equipment, agricultural machinery, wheels, fences, offshore installations etc. As a protective coating for stainless steel against corrosion in maritime environments
Benefits
• Prevents adhesion of dust, dirt and other types of contamination
• Resistant to moisture, splashes of water, salt, cement, ink, etc.
• Simple cleaning of treated surfaces
• Protects against chemicals, wear and tear, weather and wind
• Contains no solvents
Instructions for use
Clean the substrate very well with e.g. Interflon Fin Clean All (ratio 1:10). Rinse the surface thoroughly with water and allow to dry. Apply a thin layer with a spray device. Interflon Film WB is hand-dry after approx. 30 minutes and hardened after approx. 6 hours. If protection is insufficient, apply another layer. Typical consumption with atomization: 1 liter / 10 m2 surface area.

When covering large, vertical areas, apply the product from the bottom up to ensure the entire area is covered to prevent gutter marks. The product must not be used in, or allowed to dry in, direct sunlight. Recommended application temperature is between 15°C and 40°C and with humidity lower than 80%. Do not store in temperatures below 0°C.
DU ER KANSKJE OGSÅ INTERESSERT I