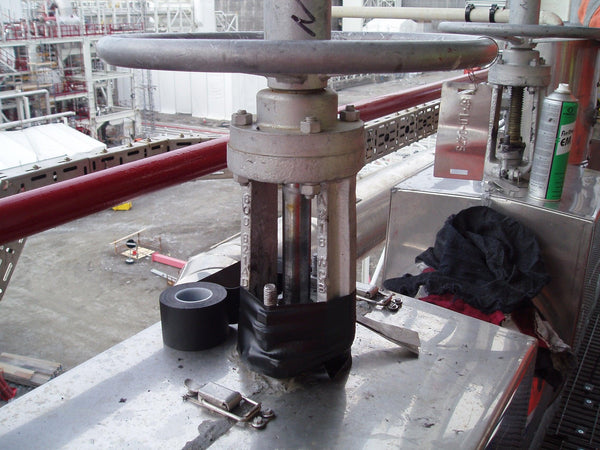 Preservation of valves
If a valve is to be stored, it is important that it is properly preserved so that it works when it is once installed.
Valves that have been installed must also be protected, but now through a hectic construction period with welding and grinding everywhere.
Here we give you some methods that will keep you out of trouble like what one of the oil projects got after this unfortunate report (the picture has no connection with the report):

"According to the inspection report from Ptil, pipes were not covered at the ends, so that sand, dust and rainwater had accumulated in the pipes. A large number of valves, including safety-critical valves, were stored or installed without satisfactory preservation. The same applied to actuators and valve spindles.
- .. valves, pipes, flanges and other vital equipment already had visible corrosion attacks and damage. In addition, electrical junction boxes were not satisfactorily closed and lacked silica gel, and electric motors were uncovered and without connected heating elements. Sandblasting, grinding, welding, painting and assembly work was carried out in and around the facility, without protection of other equipment.
In the methods below, let us assume that the preservation will also cover the construction phase . As a supplier, you can get away with simpler protection if you are going to deliver to a subcontractor, but the spec can just as easily say that the preservation must last all the way until the platform is put into operation - if you read carefully.
External preservation of valves
The challenge is welding and grinding dust, paint, corrosion and mechanical damage.
Lubricate valve spindles with FinLube TF and seal around with Scapa vulk tape 2504 or 2501 so that dirt on the spindle is not dragged into the stuffing box when the valve is operated. Continue sealing over the packing box. Then you have extended the service life considerably with simple measures.
Grease up the grease nipples and put on the caps.
Stainless surfaces are wrapped in fiberglass cloth that is fixed with weatherproof tape to protect against sanding dust.
Internal preservation of valves
Clean the valves and dry them. Make sure that there are no residues of chemicals, cleaning agents or particles on the surface.
Refill any gears with oil or grease, so that all moving parts are well lubricated.
Spray on preservation oil, preferably oil with vci inhibitor , on all internal surfaces - in the open and closed position.
Also spray the flange surfaces, and protect them by putting on plastic or veneer flange protectors , depending on what the spec says.
Lock off the valves with nylon strips or similar, as a general rule according to the figure below.
Store in such a way that the spindles are not bent and that the valve is otherwise not mechanically damaged.
In addition, the spec may sometimes require that a vci capsule or silica gel desiccant be installed in the valve housing before the flange cover is fitted.
Long-term storage of valves
If you suspect that the valve may be stored for a long time before it is sent for installation, it may also be smart to use VCI packaging to keep the entire valve free from corrosion. Like all plastic packaging, this will be removed when it is to be installed on board sometime in the future.
VCI plastic is impregnated with VCI (Volatile Corrosion Inhibitor) molecules. The molecules slowly evaporate out of the plastic and stick to any metallic surfaces that are wrapped.
The VCI vapor will form an invisible film between the metal and the surrounding atmosphere and thus stop the corrosion. This means that even if condensation forms inside the plastic, this condensation will not cause corrosion because it is not in contact with the metal. On larger valves, it can be an advantage to additionally use a bag of Zerust ActivPak LS-35 inside the valve. This bag contains both VCI and FCI and is therefore very fast-acting and protects up to a cubic load.
VCI packaging is available in many different solutions, for this type of preservation perhaps pallet caps are preferable, these are available in different heights adapted to both full and half pallets. The pallet caps can be reversed, so you have a bag that fits perfectly on the pallet. If you lose the top well, then everything inside the bag will stay free of corrosion for years!
To protect the valve from damage other than corrosion, such as impact damage, you must use flange protectors. We recommend the Rapid Soft Cover , which consists of both hard plastic and cellular rubber for the best possible impact and dust protection. We produce these ourselves, and we can make all sizes and shapes according to drawings. The flange protectors are installed quickly and easily with the included plugs.