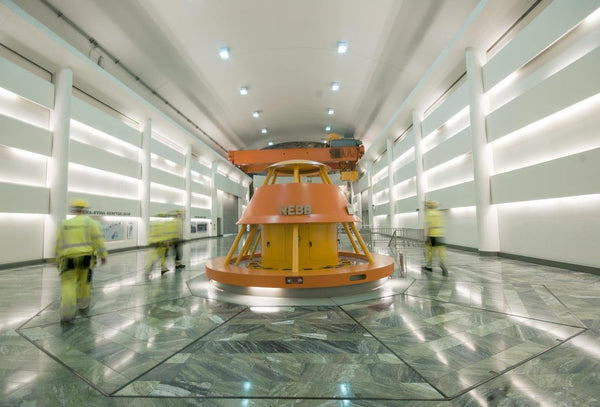 Products for power plants and transformers
A selection of our products are particularly widely used in power plants and transformers.
We supply operating materials such as ion exchangers, regeneration chemistry, desiccant , ventilators . VCI packaging ensures corrosion-free storage of expensive material. Propaflex protects drums against impact and UV.
Emitters/capsules eliminate switch faults in cabinets and stations that are out of reach for daily inspection or that are in a corrosive environment.
Here is a presentation of some products that Norwegian power plants use to supply Norway, and the world, with energy.
Desiccant
When the transformer has an assignment, the oil level in the transformer is lowered. The air that is sucked in to replace the void left by the oil contains a lot of moisture. And transformer oils don't like moisture. Therefore, the air passes through a breathing filter filled with self-indicating silica gel to be dried.
Self-indicating silica gel changes color when it is saturated, so it is easy to see when it needs to be replaced. The breathing filter can be a glass watch with silica balls that must be changed perhaps every six months.
As it can be demanding to change the balls, we also supply ready-made Air Sentry inserts filled with silica. The entire filter housing is made of plastic and can be changed within seconds.
VCI - Volatile Corrosion Inhibitor
VCI Capsules are used in all junction boxes and cabinets to prevent corrosion. VCI stands for volatile corrosion inhibitor. The capsules emit a low-pressure gas and the molecules in the gas settle on all metallic surfaces inside the junction box or cabinet and form an invisible film that protects against corrosion. The protection lasts for several years, and disappears when the cabinet is opened. We have capsules that protect everything from 4 liters to containers of 24 m3.
If equipment is to be stored, it must be well protected so that it will function when in operation
again. Worst case scenario is that a critical part has corroded while it has been stored. It is therefore important to pack the equipment well, and VCI packaging is often used for this. Our most popular product within vci packaging is plastic film. This behaves like normal plastic, but is impregnated with VCI molecules that evaporate out of the plastic and protect all metal parts that are wrapped. If you use vci packaging to pack the equipment, you are sure that it will remain corrosion-free for many years!
Ion exchange mass
An ion exchanger is a filter material used in energy production to demineralize and remove ions in process water. We supply, among other things , Amberlite IRN150 and Amberlite 4200CL .
Lamellar plastic
Propaflex is a type of lamellar plastic that provides optimal impact protection. Commonly used on cable drums, or on cylinders, pipes, and shafts to be put away and
stored properly. Solid, longitudinal cushions in the slats ensure solid cushioning during handling.