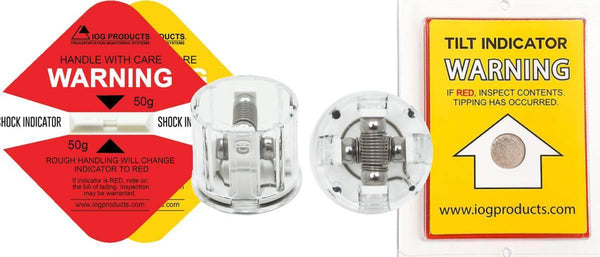 Shock Indicators Part 1 - Why Monitor Shipments?
This is part 1 of the article series on impact indicators. Here we consider why you should use impact indicators on your shipments. Part 2 comes on and deals with how to use them correctly, and is located here . Part 3 is about how to choose the right sensitivity, you can find it here!
Shock Indicator, Shock Indicator, Cargo Watch, Shockwatch - dear child has many names, but what is it and why should you use it?
With the high growth of e-commerce and the exponential number of items that
sent, we believe that many people can benefit from having their parcels monitored for hard knocks and shocks. Shock indicators contain a small glass ampoule or a mechanical spring, precisely calibrated to detect a specific g-force that could potentially damage your goods during transport or storage. The springs hold a steel ball in place. When impact occurs that exceeds the g-force level of the calibrated springs, the steel ball will dislodge and indicate that your pack has been heavily impacted. On the ampoules, a thin glass wall will break, and the ampoule will be filled with a red liquid
So why would you bother to monitor your shipment? We have probably all experienced that the transporters do not always treat goods as if they were an irreplaceable mixing vase. Damaged products are a major cost for companies worldwide. Customers lose both time and money when the products they receive do not work or are damaged when they arrive - and suppliers lose money replacing damaged goods.
Impact indicators should be assessed for all products that have the potential for damage from impacts in the transport chain. Be it breakable products or delicate electronic components.
Here are some good reasons to use shock indicators:
Acts as a visual deterrent against incorrect handling
Reduces mishandling through awareness
Provides irrefutable evidence of maltreatment
Reminds recipient to inspect goods and equipment for potential damage prior to acceptance
Promotes responsibility for all product handling
Confirms the effectiveness of the packaging
Helps identify problems in the supply chain from production to transportation to storage
Reduces the costs associated with damage that occurs during operation, shipping, handling and storage
Our Protect-A-Pak (PAP) indicator is Impact-O-Graph's most popular monitoring device, not only for all the reasons listed above, but also for visual indication, low cost, efficiency and accuracy. The dual-axis design is a step above basic bump marks that provide superior bump detection. If you don't monitor your shipments with an impact indicator, consider taking the extra step of monitoring your packages for extra visibility in transit. Your customers will be glad you did.
The rollover indicator is another type of indicator that shows whether your shipment has
overturned during transport or storage. This indicator cannot be tampered with and gives a clear red warning when tipped. Products such as monitors and large screens are often packed in narrow, tall boxes that easily tip over, and are perfect examples of products that should use tipping indicators. Often you can't see the damage until you plug in the screen..
Do you have questions about how to use impact indicators, or do you want to test how much your product can withstand before it suffers critical damage? Contact us by email and we will guide you!
Subscribe to the blog?
We send you the latest posts straight to your inbox - once a week!